In 2013, Stefan Preuß from the "Schwarzwälder Bote" published an article about a talk that Elfi and Günther held in the "Farrenstall" in Dauchingen. Read the (German) article by clicking the link or read the English translation below.
https://www.schwarzwaelder-bote.de/inhalt.dauchingen-schulkomplex-weitestgehend-renoviert.3d63a0bb-f557-4152-8670-04da615ffb47.html
---
School complex largely renovated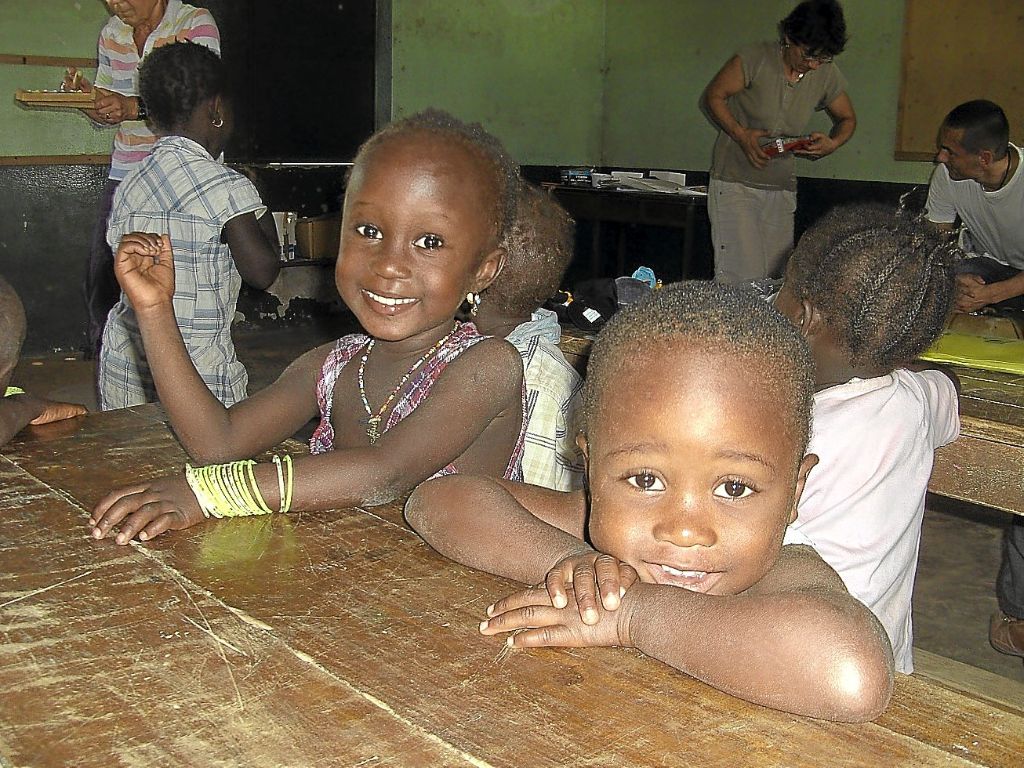 Elfrun and Günther Reinelt take listeners on a journey to a special country / Partnership with Gambia
First, the Reinelts took the audience on a journey to a special country whose rich wildlife, especially birds, is impressive. But also crocodiles, monkeys and a great abundance of fish are characterizing features of the Gambia. The audience also learned that intense agriculture is practiced, such as the cultivation of peanuts, mango, bananas, cassava, conditionally rice, as well as vegetables – if irrigation can be ensured.
The project came into being when medical doctor Gabriele Reinelt was working for "Doctors Without Borders" in Sierra Leone during an ongoing war. For some rest time, the Reinelts' daughter arranged to meet her two siblings in Gambia, which was not ravaged by war.
On a random visit to Bintang, they were intrigued by the place on the Gambia River. So they decided to rebuild a run-down lodge to provide work for the people in the community. "With high private expenses, the lodge was renovated in 2004," Günther Reinelt reported. A year later, when the former principal Gabriele Krieger from the Dauchingen primary and secondary school took a vacation in Gambia, she also visited Bintang. Finally, in 2006, the partnership of the two schools was established. "Since 2007, children from Bintang have been sent to secondary schools, primarily to Brikama in the Bottrop Technical Secondary School. Compulsory education ends after the sixth school year. The language is English. By now, 14 children are being sponsored," reported Elfrun Reinelt. Every year, about 60 to 80 school uniforms are purchased for the poorest students so that they can attend school, because in the Gambia they say, "No school uniform, no school attendance."
The school complex has been largely renovated with funds from Dauchingen, as Reinelt pointed out with photos: "The roof has been re-roofed, rooms have been painted, the dining hall and teachers' living complex have been completely rebuilt, only the kitchen is still under construction." The Reinelts also presented new projects, such as kindergartens in the surrounding small towns like Katakorr, Bulanjor and Jakoj. "Since young children up to six years old cannot travel the distances of up to eight kilometers to Bintang twice a day, funds are needed to renovate and expand kindergartens, money for lunches cooked by mothers and funds to send children to kindergarten," Elfrun Reinelt said.
In the meantime, several students already have private sponsors who finance their attendance at secondary schools, the duo reported. Their conclusion: "It's worthwhile to help in Gambia because you experience a lot of joy and a lot of gratitude comes back."