Around August of 2021, we once more travelled to the Gambia. And with us travelled three big bags full with soccer gear provided by the TSV Sauerlach. They were filled with several sets of jerseys including shorts and socks, a whole lot of sport shoes, many brand new balls and several other things that we were brought to us by Angelika Ellinger. Also included was a big batch of sports shirts provided by Katharina from Hand in Hand e.V.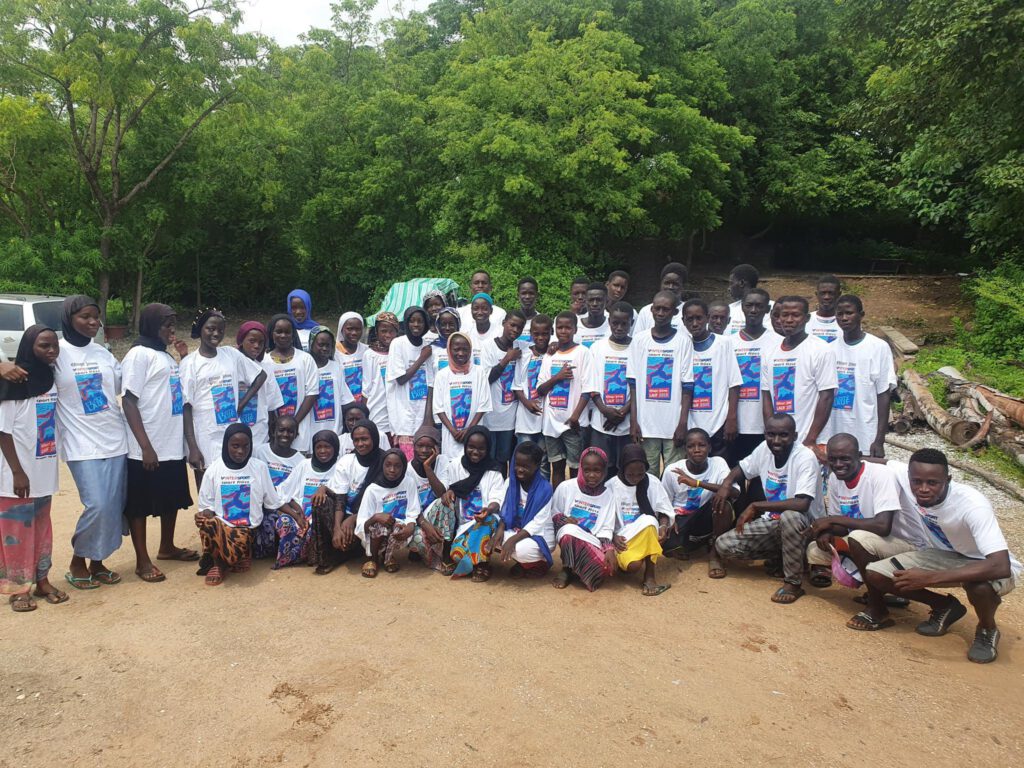 To make a long story short, it was – like always – a great experience being able to hand all these beautiful things over to the FC Bintang. I want to let the pictures speak for themselves. Also, there were some articles about it, so feel free to read into those, too. I will only link the original TZ.de one; you can read it by clicking on the link or keep reading for the English translation.
Many thanks to Angelika Ellinger, the TSV and Mimi! 🙂
https://www.tz.de/muenchen/region/hallo-muenchen/fussballer-des-tsv-sauerlach-unterstuetzen-verein-in-gambia-91263576.html
---
A Contribution for Faces with Big Smiles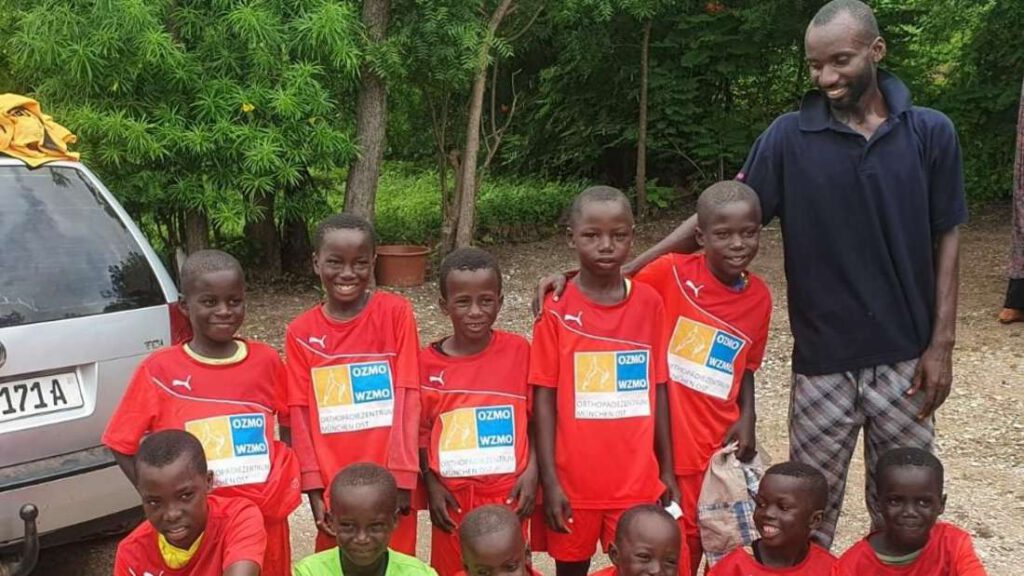 The soccer department of TSV Sauerlach regularly donates sports equipment to FC Bintang from Gambia. For the future, Sauerlach aims to provide continuous support in the form of a club partnership.
Gambia is located in West Africa on the river of the same name. The country has about 2.2 million inhabitants and is almost completely surrounded by Senegal. The Bao Bolong Wetland Reserve is home to monkeys, leopards, hippos and rare birds, for example.
About in the middle of the country, on an arm of the Gambia, is home to FCB – FC Bintang. The small town is home to many enthusiastic soccer players, who are supported by TSV Sauerlach with donated equipment. Because Gambia is one of the poorest countries in the world. Three quarters of the rural population suffer from poverty and hunger. Besides fishing and agriculture, the country's main industry is tourism.
The personal contact to Bintang was established 20 years ago by a family from Sauerlach, whose children played for TSV when they were young. Since then, the family has repeatedly brought equipment from the TSV Sauerlach soccer department to Bintang on their travels and passed it on to the teams. During the visits over the years, donations in kind and clothing have also been distributed to kindergartens, schools, sports clubs and women's projects.
The institutions there, especially the FC Bintang soccer club, lack any means to finance transportation, for example, to travel to games. "There is a lack of everything there, there are not even bicycles. People do everything on foot," clarifies Angelika Ellinger, youth leader and third board member at TSV. The sports equipment, such as balls, jerseys and training equipment, which has already been donated repeatedly from the Sauerlach fund, is therefore very welcome, much sought after and highly appreciated. "Through contact via social media, we can follow everything. It's so nice to see how happy the kids are about the equipment," Ellinger says happily.
Unemployment is particularly high among young people in The Gambia. Soccer is one of the few leisure activities for the young people and they place a very high value on it. "The pictures the family brought back from the jersey/ball drive speak for themselves. We are very pleased that we were able to contribute to the beaming faces," says Angelika Ellinger.
The Sauerlach family has already purchased and rebuilt the Bintang Bolong Lodge in 2000 on a large side river of the Gambia. The village has about 1500 inhabitants and is thus one of the largest villages in the region. The lodge is the main employer in Bintang. Many projects have been implemented over decades. Through a school partnership, wells and school houses were built and renovated and kindergartens were supported. Pupils could be enabled to attend secondary schools and study. In the Corona crisis of 2020/21, the community was helped with food donations. And currently a water reservoir is under construction in Bintang.
TSV Sauerlach would like to continue helping the people in Bintang. "Continuous support of FC Bintang as a partner club is also being considered," says youth leader Ellinger. She is particularly pleased that they have a reliable local partner in the form of the local family. "This way, we can be sure that the donations will arrive," Ellinger says. The jersey sets come up, for example, when sponsors change and the equipment needs new imprints. But also new items such as balls or training equipment could already be provided to FC Bintang through private donations from club circles.
In the future, donations will be collected at club parties, for example, in order to support the soccer-loving West Africans with financial means as well. "In this way, we want to promote the training of coaches on site, for example," explains Ellinger.