Right before Christmas 2019, an article written by Gertrud Hauser was published in the "Neckarquelle – Südwest Presse". Read the (German) article by clicking the link or the English translation below.
https://www.nq-online.de/lokales/schwarzwald-baar/dauchinger-gambia-projekt-hilft-vielen-jungen-menschen_54_111821932-16.html
---
Dauchinger Gambia project helps many young people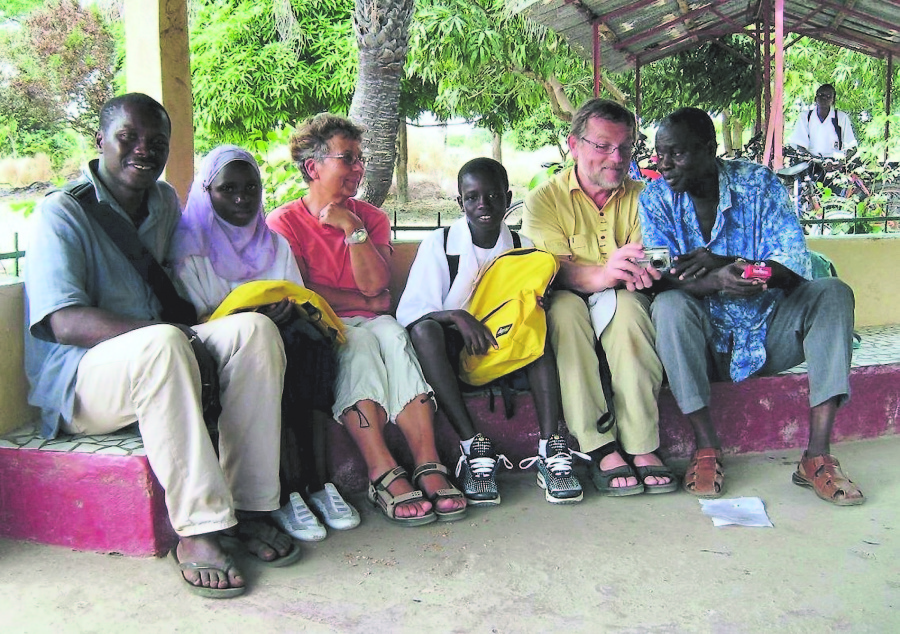 No less than two of the young people supported by the Dauchingen Gambia project have recently graduated from university. Donations are still important.
The Gambia project, once initiated by the Dauchingen school and supervised for years by Elfrun and Dr. Günther Reinelt, can look back on a very successful 2019: no less than two of the young people supported for many years have achieved their university degrees.
"Education is the key to successful and sustainable aid," the Reinelts emphasize the initiative's strategy. Through donations, they have been able to directly support the children, young people and students with 7100 euros, they say. "Two of our long-time sponsored children have now graduated from university with perfect grades. We can all be proud of that."
Even though Gambia now has a freely elected parliament, poverty and lack of prospects are still very high. This situation repeatedly leads to tragedies such as the one in early December, when 57 Gambian refugees drowned off the coast of Mauritania after the boat carrying 150 people capsized. In order to open up perspectives for the people in Gambia, more and more church, private and state organizations are getting involved to create jobs after the fall of dictator Jammeh, note the Reinelts, who have often been on site.
In concrete project work, the donors, who come from Dauchingen but also from other parts of the republic, are currently supporting six students. With Nyima S`Tamba and Kulaimata Manneh, two young ladies are being supported. "Nyima is studying management, Kulaimata politics," the Reinelts report. Kaddiyatou Minteh and Lamin Manneh have passed the West African Baccalaureate at the school in Brikama, but are currently taking an additional course to improve their final certificate. Ansumana Badjie is repeating the final class, according to the school report, successfully.
Abdou Faboureh, a deaf-mute student, is still attending the Catholic School for the Deaf and Mute in the town of Serrekunda and, thanks to his very good report cards, has good prospects of being able to pursue a profession later on. The kindergarten in Jakoi received more than 1000 Euro for the payment of the kindergarten teacher, school meals and other purchases, similar to the previous years.
The helpers are particularly happy and proud that two of the students who have been supported for many years have completed their university studies. Bakary Chorr graduated with a bachelor's degree in Hyderabad, India, with an excellent report card. He has returned to The Gambia and wants to open a medical laboratory with a friend. He would like to perform tests for HIV, hepatitis A and B, and syphilis, as well as HCG tests (pregnancy tests). He has also already made concrete proposals: "Perhaps we will be able to help him build up his livelihood," the Reinelts say.
Ousman Ceesay has also graduated with a good degree and no longer needs support.
Education made possible
"We are all proud that we have succeeded in providing these two young people with an education that will open up career prospects for them. We thank you very much for this," Elfi and Günther Reinelt address the contributors. "We sincerely hope that you will continue to support us so that we can also help the other students to obtain a university degree."
The initiative would also like to continue to enable the poorest children in Jakoi to attend kindergarten, which is why they continue to rely on donations. Receipts will be issued by the Dauchingen community. The Reinelt family guarantees that every cent will reach Gambia: "Our son Sebastian was recently in Gambia and asked about our local projects. Our aid is getting there!"